Announcing Integration with the SG200 Battery Monitor Monitor Alternator/Regulator Activity from the SG200

Setup Regulator from 2″ Color Display or the Smartphone App

Advanced Programming from the Smartphone App

All the Same Regulation Features as the MC-614

New Carbon Foam AGM Battery Profile

Improved High Temperature Alternator Control
Protects Lithium Batteries below Freezing Temperatures
Balmar has upgraded its legendary MC-614 Voltage Regulator to communicate with the SG200 Battery Monitor!  Now you can see how the New MC-618 Regulator is directing your alternator charging activity from either the SG200 2″ Color Display and/or the optional Bluetooth® Smartphone App.  Basic setup functions can be accomplished from the SG200 Color Display, Smartphone App or the traditional on-regulator programming tool.  Advanced Programming functions are available and easily configured from the Bluetooth® Smartphone App.
Monitor your Alternator's Performance with Real-Time Data
Charging Stage

Compare Actual Voltage against Target Voltage

Monitor Field Output Percentage

Set Maximum Field Percentage


Add the Optional Bluetooth® Gateway to Enable Advanced Programming

Configure ALL Regulator Parameters

Save and Recall Regulator Programs

Monitor Regulator Performance from your Smartphone

Collect and Share Diagnostic Information

Best of all, the New MC-618 is priced the same as the MC-614. Merely purchase a 5-meter  (SG2-0403) or 10-meter (SG2-0400) cable; both come with an adapter that allows you to connect the MC-618 to the SmartLink™ network.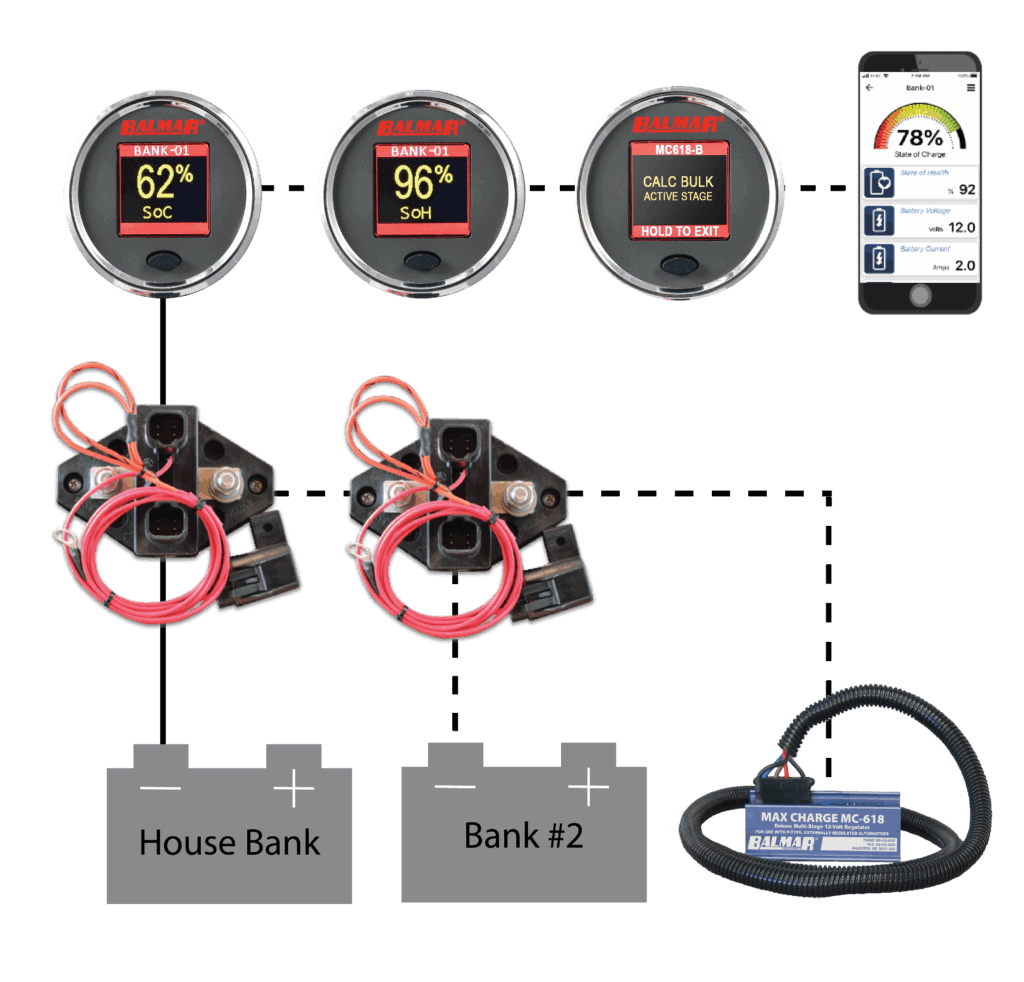 Use The SmartLinkTM Network for Charging and Monitoring

Build your own charging and battery monitoring network!
Add Color Displays for viewing data in different locations.

All charging and battery information can be displayed anywhere on the SmartLinkTM Network

SG200 Firmware upgrades are available via downloads through the Smpartphone App and Bluetooth® Gateway.

Dual engine applications are easily supported by connecting both MC-618 regulators to the SmartLinkTM Network.
Add SmartShunts if you have multiple banks.

Stern or Bow Thruster Banks
House Bank #2
The MC-618 and SG200 Manuals can be found on our operations manuals page here.